Jobsite description
The Interchange includes:
43 bridges distributed across 5 levels (thus the name "High Five"), with the highest ramps 120 feet (37 m) above ground
a total of 710 support tiers
30,000 feet (9,144 m) of drainage pipes
nearly 60 lane-miles of new roadway
stretches from north to south: 2.4 miles (3.9 km)
streches from east to west: 3.4 miles (5.5 km).
Total volume of concrete: 500 000 m3
CHRYSO expertise
11 million dollars early completion bonus is paid to the contractors thanks to the combination of last generation admixtures and maturometry technologies.
Results:
Speed-up concrete placement
Stripping of multiple concrete mix designs from 0 slump to SCC
Project technical challenges
During construction staging, to maintain traffic flow, most of the fly-over ramps are built over the existing partial cloverleaf interchange. The old junction is then demolished with little disruption once the new lanes are operational.
---
Project participants
Owner: Texas Department of Transportation (D.O.T.)
Contractor: Zachry Construction Corporation
---
Real estate
THE LEONARDO ENTRANCE
The Leonardo began construction on 17 November 2015.
It is a 55 floor mixed-use property development in Sandton, Johannesburg, South Africa that stands at a height of 234 metres.
SANDTONE, SOUTH AFRICA
View reference
THE LEONARDO ENTRANCE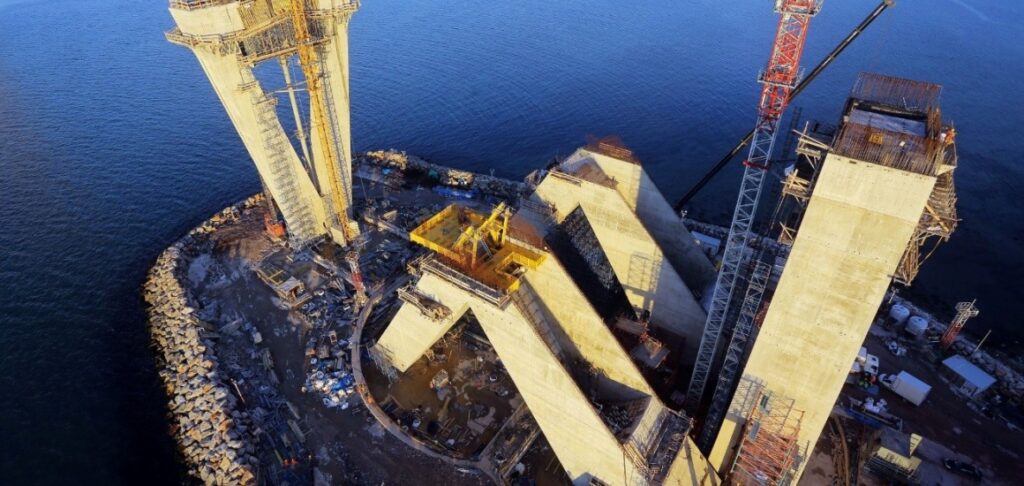 Bridge
Osmangazi Bridge
The Izmit Bridge is a part of the Izmir – Istanbul highway project.
It is the 4th longest suspension bridge in the world.
Izmit, Turkey
View reference
Osmangazi Bridge